06/29/2021 / By News Editors
---
Carl Nassib went from hero to zero in record time. Hailed earlier this week by the Left for being the courageous first active homosexual player in the NFL, Nassib is now getting canceled by the Twitter mob because he is a registered Republican who voted for Donald Trump. Oh, the agony of it!
(Article by Jay Maxson republished from NewsBusters.org)
Twitter is afire with the unthinkable news. Snopes already declared the rumors true: Nassib is indeed a registered Republican.
Clay Travis, the Outkick commentator, loves the irony of it all: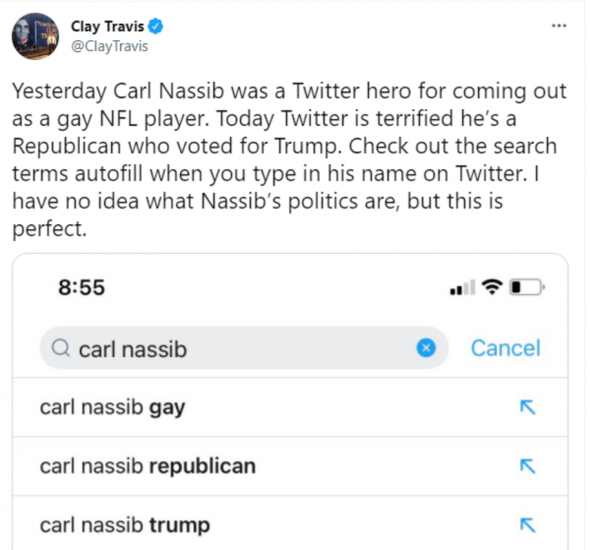 In the words of the late Howard Cosell: "How quickly the scene changes." Earlier in the week, media hyped the "Big Win" with the news of the Las Vegas Raiders player boldly coming out of the closet.:
An NBC News Think piece hoped it "could be [a] turning point for male sports." Yahoo! Sports columnist Dan Wetzel wrote "Why Carl Nassib becoming the NFL's first openly gay active player matters so much." An NFL.com columnist raved about "How Carl Nassib's courageous announcement changed — and challenged — the NFL." Newsweek called it a "big LGBTQ win during Pride Month."
In the story "Why Carl Nassib Matters", The Washington Post wrote, "Carl Nassib's presence is a symbol of progress — and a reminder of the perils facing gay men … amid a backdrop of "a new Republican push to target LGBTQ rights … "
Paul Sullivan wrote with glee in the Chicago Tribune:
Las Vegas Raiders defensive end Carl Nassib became the first active openly gay NFL player, pride flags flew over Wrigley Field and San Antonio Spurs assistant Becky Hammon became the first woman finalist for an NBA head coaching vacancy.
USA Today raved: "Raiders defensive end Carl Nassib took a courageous step Monday. He became the first active NFL player to come out as gay, and, for the most part, the announcement was met with rousing support and respect. It was a monumental moment for the league and, hopefully, a sign of growth." Nassib was hailed as the man who would save many lives.
President Joe Biden tweeted his support for Nassib coming out.:

Nassib's jersey quickly became the NFL's top seller, too.
Many major media were slow to address Nassib's newfound political embarrassment, but The Patriot Daily Press blog reported … :
"Carl Nassib was praised widely in the mainstream media after he became the first openly gay NFL player active on a team's roster, but others pounced on rumors that he's a pro-Trump Republican to denounce him."
Twitter's cancellation mob included these among many disparaging responses to the horror of Nassib being GOP:
Read more at: NewsBusters.org and IdentityPolitics.news.